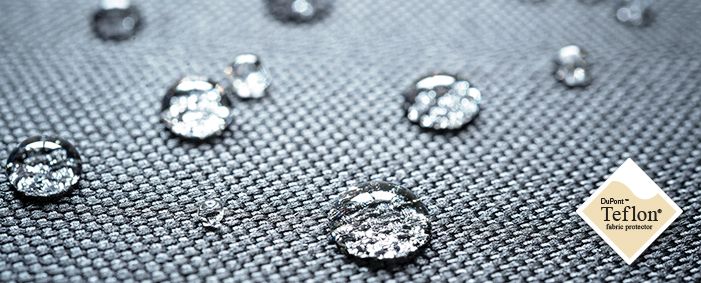 Teflon
is one of the most effective tarps for fabrics. Unlike other similar treatments, Teflon forms a molecular barrier in the vicinity of individual fibers, effectively repels the stains formed by water and oil, and is easy to clean and keeps the fabric long-lasting.
• Keeps water and oil from being easily absorbed by the fabric
• Effectively repels stains and dirt from fabric
• Water and oil based stains bead up on the surface
• Liquids remain on the surface and can easily be wiped away
• Easily machine washed
---
The Benefits of A Latex Mattress
A latex mattress offers you many benefits and a high quality sleep experience, explaining its popularity.
Excellent Air Circulation
• The open-cell natural structure of latex allows for good breathability, resulting in a comfortable sleeping temperature.
Soft Support
• Latex almost pushes back against you, offering a soft and body-contouring sleep surface that supports without creating painful pressure points or letting you sink into your mattress.
Hypoallergenic
• Latex is naturally hypoallergenic, which makes it the perfect choice for households with allergies or asthma. Bacteria, dust mites, mould, and mildew cannot live in latex due to its open-cell structure and excellent ventilation.
Sustainable Material
• Latex is a renewable, sustainable resource. Latex is derived from rubber trees, which are harvested in a sustainable, eco-friendly manner. It's also good to know that no harmful chemicals are used in the making of latex mattresses.
---
GRAND SILVER

For those who insist upon the finer things in life, Honey Grand Silver will be the one which offering you the sleep like you are never experienced, leading to more wide-awake days. To do that, Honey Grand Silver contains all the latest technologies in it.

Width : 153cm (Queen) / 183cm (king)

Long : 190cm

Height : 25cm

Product Features :

Product Specification :

1. Natural Latex

2. Polyurethane Foam
---
GRAND PLATINUM

The combinations of the Finest Latex, Teflon fabric and 7 Zone Pocket Spring System, all you can find in it. Honey Grand Platinum ensures you invest your money into a mattress that's made to last, offering comfort, support and durability for years to come.

Width : 153cm (Queen) / 183cm (king)

Long : 190cm

Height : 30cm

Product Features :




Product Specification :

1. Latex

2. Polyurethane Foam

3. 7 Zone Pocket Spring

4. Polyurethane Foam

5. HLD Edge Protection