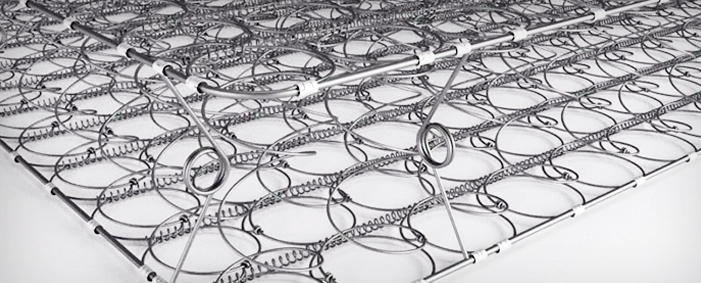 A sound sleep at night keeps everyone refreshed for the whole day. A good night sleep is very important for good health. Our spinal series mattresses come with revolutionary Bonnell springs, providing comfortable and relaxation to your body and mind. Our Spinal series is the right choice of mattress benefits you with perfect sleep system to support your spine cord of your body. The spinal series spring mattresses are engineered to supremacy and crafted to proficiency. Hence, the key features of our spinal series offer its unique features are shown as follows:
• Five turns hourglass configuration provides greater load distribution efficiency.
• Support to the spinal cord of the body.
• Provide an unmatchable sleeping posture.
• Provide the firmest support for your body.
---
IDEAL ECO

If you desired to a good night's rest and wake up feeling refreshed and energetic, your mattress must provide both comfort and support. Ideal Spinal Eco provides excellent level of correct back support to move naturally while sleeping.

Width : 153cm (Queen) / 183cm (king)

Long : 190cm

Height : 25cm

Product Features :

Product Specification :

1. Knitted Quilted Fabric Cover

2. High Density Foam

3. High Density Coconut Fiber

4. High Tensile Bonnell Spring System

(Hard Foam Encasement System)
---
IDEAL CARE

If you do not get a good night's sleep every night then it is time to go to select a right mattress. The right mattress can make all the difference. Hence we understand your problems and specially designed this mattress to you. Ideal Spinal Care with the added features creates better support and comfortable to your body.

Width : 153cm (Queen) / 183cm (king)

Long : 190cm

Height : 28cm

Product Features :




1. Knitted Quilted Fabric Cover

2. High Density Foam

3. High Density Support Foam

4. High Density Coconut Fiber

5. High Tensile Bonnell Spring System

(Hard Foam Encasement System)
---
IDEAL ZONES

Ideal Spinal Zones not simply brings you to the bed while we do more to you. I-Zones tailored your specifically to your needs and provides you the greatest comfortable.

Width : 153cm (Queen) / 183cm (king)

Long : 190cm

Height : 33cm

Product Features :




1. Breathable Quilted Knitted Cover

2. Comfort Layer Premium Foam

3. Eco-Friendly Coconut Fiber

4. High Tensile Bonnell Spring System

(Hard Foam Encasement System)